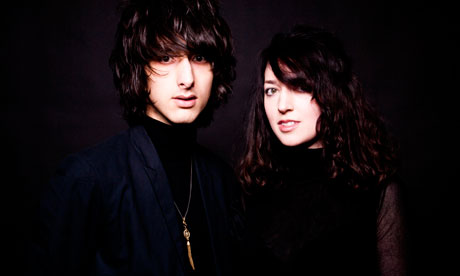 A couple of weeks ago we asked for your questions for Cat's Eyes on our Facebook page and you duly obliged sending us some great stuff. The past week or two has seen a lot of praise for the new EP from the likes of Vice, Q, Mojo, ID and many more.
Faris and Rachel have kindly taken time out from being one of the critical successes of the year so far to answer some of your questions:
1.      If you could play a gig with a musician (dead or alive) who would it be? (Question submitted by Paula Salces)

 Faris: Rowland S Howard 

 Rachel:  Miles Davis

 2.      How did the idea to form Cat's Eyes come about? (Val Banks)

Faris: "I made Rachel a compilation CD of my favourite songs, then I went away on tour with The Horrors. When we were talking about the classical stuff Rachel had been involved with, I hadn't really thought about it translating. But while I was away in Sweden , she sent me this demo she'd done, which ended up being the song, 'The Lull'. In its original form, it had more of a Shangri Las feel."

Rachel: "I really got into his mix CD and that's when I sent him the track I made, just for fun. Then it just took on a life of its own. We started sending things back and forth, then whenever Faris was back from tour, we'd write a song together."

3.      You both have very different, but equally eclectic musical tastes. How did you bring all of these influences together? (Chloe Gynne)

Rachel: "Our working process was pretty straightforward as we combined different things from our different worlds. I'd play English horn, and Faris would put it through pedals, and make it sound completely different. Every acoustic element he was able to distort and manipulate. So an oboe part would become less corny. You'd never know it was an oboe, it's more like an interesting synth sound, maybe. Even some of the opera stuff I was singing for backing vocals, you wouldn't know it, because he would run it through his chorus echo, or some pedal or other into an amp, and play around with the sound until it wasn't recognisable.

4.      Are the Shangri-Las and other 60s pop bands an inspiration to your music? (Valentina Westwood Guerrini)

Faris: "Yes. What I've always liked about girl groups is how naïve the lyrics are. They're distilling the things kids go through into a few sentences. I love all the imagery – biker gangs, fairgrounds and drive-in cinemas."

5.      Who wrote the lyrics of the song 'Not a Friend' (I really like them!) (Valentina Westwood Guerrini)

Faris: "Thanks. For 'Not A Friend' Rachel had an idea for a song while she was crossing the road somewhere. She sang the beginning line and the first verse into her phone while she was walking along, and on her recording you can hear birds in the background, and then the beep of a car as it swerves to avoid hitting her."

6.      Is there any meaning behind having no/minimal stage lights at your shows? (Emma Price)

 Faris: Cat's eyes work better in the dark.

7.      How/When did you become Cat's Eyes? (Danny Herman)

Faris: "Please see question 2."

8.      What music inspires you the most? (Honora King)

Faris: "Honey & The Bees - One Girl, One Boy; The Sharades - Dumbhead; The Bittersweets - Summertime; Donna Loren - So, Do the Zonk; Dani Sheridan - Guess I'm Dumb"

Rachel:  Stevie Wonder - Superstition,  Chet Baker - The Thrill is Gone; The Carpenters - Superstar;  Saint-Saens:  The Dying Swan; Durufle':  Prelude and Fugue on the name A.L.A.I.N

 
10.  Besides musical influences are there any films, books or just art in general that have inspired the band? (Kailey Williams)

Faris: Rachel and I bonded over films first - we exchanged Haneke films - she gave me "The Piano Teacher" and I gave her "Hidden".

11.  How many instruments does Rachel play? (Jamie Sutton)

Faris:  oboe, cor anglais, cathedral organ, piano, violin, viola, vibraphone….and quite a few others, but those are the main ones.

12.  What are your favourite places? (Amber Romanowski)

 Faris: Touring the States has always been good… finding record shops in every city.

Rachel:  I'm always pretty happy in Italy.
Cat's Eyes play for Eat Your Own Ears on the 27th of April at London's Scala and two days prior to that in Glasgow at St. Andrews in the Square.